Hello everyone! Today I will be taking part in a collab with Carol in honor of our 1st blogiversary, since we started our blogs only a few days apart from each other.
I'm sure a lot of you can relate to some point in your blogging life when you're wondering why no one is following or commenting on your blog. I can very much relate to that.
So that's why I'm posting 6 not-so-secret blogging tips here, and over at Carol's lovely blog, she is posting 6 more tips woah win win. Don't forget to check out her blog and her post! She is a lovely person and an amazing blogger. 🙂
Without further ado, let's dive in.

1. Interact with other's and make yourself known
This is the most important thing you can do to increase readers on your blog. From the small group of bloggers that you know, you can find bloggers that they know. When you discover a blog, don't just like their post, leave a comment and hit that follow button if you like their content. If you comment, they will most likely want to check out your blog because they know you took the time to read their post.
Do button swaps. If you don't know what this is, it is basically a way you can advertise your blog. You can check out my button swaps page here. You comment on other blogger's button swap pages and ask to swap. If they agree, you can then put their button on your page, and they will put yours on theirs. Add the link to their blog on the button the same way you add a link to text, and when people click on the button, it will lead them directly to that person's blog. Same for your button.
I've discovered quite a few bloggers through this. If you don't have a blog button, there are a lot of bloggers who would be willing to make one for you for free, like Design Pique Studios, Megan@ABarefootGal, Carol or Syd & Em. Or you could simply throw one together at Canva. 🙂
---
2. Be your awesome self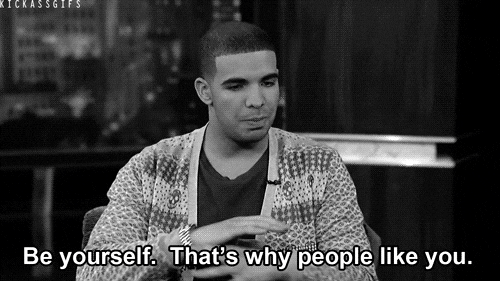 I'll admit; sometimes I waste my time looking at other blogs and wishing I could be as good as them. And it's not bad to want your blog to succeed. In fact, it'll push you to strive to make your blog the best it can be, and other blogs can certainly be that inspiration. Not that I'm saying it's good to be jealous. 😉
But different bloggers have different styles. What would the world be like if all blogs were the same? No variety. It would be bland and boring. It's your blog. People want to see YOU. Don't be worried that people won't like your blog if you're not like the other's. Just do your best, and try to succeed, because you will.
I know I want to read about your life, and your experiences. I know other bloggers would love to read that too. So believe in yourself. You never know! What you write could inspire people in ways you couldn't imagine.
---
3. Add the follow button to your sidebar
Believe me. Adding that little follow button is going to increase your follower count. How can people follow you if that button isn't there? Imagine how disappointing it would be for them to read your awesome content and then realize that they can't follow you? *sobs into pillow*
So please. For the benefit of yourself and others, add the follow button to your sidebar. How hard can it be? 😉
---
4. Break up the text in your posts
Breaking up the text into easy to digest bite sized chunks can make it easier for your readers to enjoy your posts. I find that when text is clumped too close together, I skim over it (I know I shouldn't, but admit it; you do too 😉 ).
But you shouldn't waste space and break up your text into one sentence in a paragraph. Because while breaking up text is good, if you over do it, it can be extremely annoying, and will probably ruin the essence of your post.
---
5. Add the comment section to your "about page" and posts
People love to be able to comment on your posts. Especially your "about page". Your "about page" is where people can meet you, tell you a little bit about themselves, and express common hobbies or personalities between the two of you. And if you don't have a comment section, your readers would have to find another place to comment it on, and it would be kind of awkward and cumbersome for them.
Ya know whattai mean?
The same goes for your posts. If you don't know how to enable comments on your post/page, on the post settings sidebar on your post, simply click on 'more options' at the bottom then check the 'allow comments' box. And BABAM! (who else watches good luck charlie) A comment section! 😀
---
6. Don't post too little and inactively
If you suddenly stop blogging for a month without letting your readers know, they will probably think you've died (JK) or left the blogging world forever, and probably unfollow.
Set a blogging schedule for yourself.
Be consistent. That'll show readers your dedication to your blog, and encourage them to be consistent on their blog as well.

---
And there you have it! 6 quite easy to do tips to up your stats. 🙂
Thank you so much for reading!
Also, I know I said that I would do an art exhibit featuring my brother's artwork, but he doesn't have that much at the moment, and also doesn't want me sharing them here. I'm really sorry!
and the chat with me is baaaaaack #triumphantreturn
so! what did you think of our not-so-secret tips? | do you have any 'secrets' of your own? | did you find these tips helpful? | did you just celebrate your blogiversary? | did you check out Carol's lovely post? | how has your day been?
Happy blogging! 🙂
~ Smile! God loves you. ~