Hello!
UPDATE: Tomorrow is Megan's (abarefootgal) birthday tomorrow! Don't forget to wish her a happy birthday!! Happy happy birthday, Megan! I hope you have a fantastic day. ❤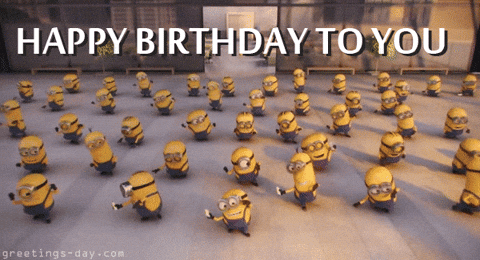 Do you know how I made slime in this post? And remember how I made it too brittle? Well I was experimenting and I put some QV lotion in it and it made it stretchier and less brittle! 😀 I know it sounds weird, but it works!
Anyway, here are the results for Define That Word #2! I stalled. Again.
THE WINNER FOR BEST DEFINITION OF DEPONTIEE (DE-PON-SHEE)
.
.
.
.
.
.
.
.
.
.
.
ALL OF YOU!
YOU ALL TIED WITH 3 VOTES EACH.
| Answer | Votes | Percent | |
| --- | --- | --- | --- |
| 1) Cold, darkness and loneliness. (The sordid room was always in a state of depontiee.) | 3 | 33% |  Tess |
| Fancy | 3 | 33% |  Starling |
| Loyal and solemn | 3 | 33% |  Enni |
Great job! I thought all your definitions were awesome.
---
WINNER OF BEST DEFINITION OF DEBOON
.
.
.
.
.
.
.
.
.
.
.
TESS (BLACKIESUNSHINE)! YOU WON THIS DEFINITION WITH 5 VOTES.
Your definition was: To give back stolen goods voluntarily. (The pirates debooned their booty, for they were conscience-stricken and wanted to change.)
---
WINNER OF BEST DEFINITION OF MEEZIES
.
.
.
.
.
.
.
.
.
.
.
TESS AGAIN! YOU WON THIS DEFINITION WITH 7 VOTES.
Your definition was: Meezies: The feeling of not being able to sit still. (Jimmy had the meezies as he waited for his vaccinations.)
---
WINNER OF BEST DEFINITION OF KENPIES (ken-pise NOT ken-pees)
.
.
.
.
.
.
.
.
.
.
.
TESS! wow. YOU WON THIS DEFINITION WITH 4 VOTES.
Your definition was: The state of not being able to think clearly. (Lisle was in kenpise as he stared at the blank paper, unable to move his pen.)
AND THE OVERALL WINNER IS
.
.
.
.
.
.
.
.
.
.
.
TESS! XD
With a total of 19 votes. 🙂 Congrats Tess (blackiesunshine)!
And congrats to Enni and Starling who also had awesome definitions! 😀
Here is your button, Tess. And if you would like to do a guest post/interview, comment below, so I can arrange it. Thanks! 🙂
There you go! Congrats again guys! 🙂
---
And I think  you probably all want to know about the results for the parliament voting. So here it is:
THE HOMESCHOOL REGULATIONS UPDATE
As some of you may know, our government isn't minding their own business and wants to control what our parents teach us as homeschooled children. They want bullied kids to have to wait 28 days before their parents can pull them out of school, and the parents have to submit a full overview of their curriculum, and parents don't really have the right to choose their child'scurriculum. You can see the post here.
I wasn't too happy with that AT ALL, because parents should have the right to choose their child's curriculum. So yesterday, my Mom traveled to the city to the Parliament with another homeschooling Mom. I should have went with them, but the train ride was too expensive. When they got there, homeschoolers, parents and children alike were campaigning for PARENTAL RIGHTS.
Unfortunately, we lost under Parliament votings. 20-20. There are a lot of positives though, such as
The government now know they can't ignore us, and that we have a voice as well
We have won the favor of people who actually have a say in things
Parents have the right to choose curriculum
The downside is that bullied children still have to wait 28 days before being pulled out of school, and their parents have to show their curriculum. I feel sorry for future home educators; I can imagine how stressful that would be.
We still have to submit our curriculum and an overview of what we've done during the year,  BUT if they don't like it, they can't do anything about it.
I'm not too fussed about that, though. I know so many homeschool parents with large families, and it'll be hard to collect their children's work over the year.
It's not as bad, and parents still have the right, but there are a lot of homeschoolers who are still disappointed.
Anyway, God is in control and He's made things better. 🙂
---
Did you enjoy the definitions? | What do you think about the results? | Would you be annoyed if you had to submit your work at the end of each year?